INTRODUCTION
THANK YOU FOR YOUR INTEREST IN THE IMPULSE FIRE EXTINGUISHING (IFEX) TECHNOLOGY
On the following pages you will find essential information on the Impulse Fire Extinguishing Technology and its products and systems. We will be glad to help you and give advice which IFEX solutions are most suitable for your purpose.

IFEX HELICOPTERS IN THE NETHERLANDS
Dutch Police Forces have put their first IFEX FireCopters on duty. The extinguishing equipment is partly sponsored by the AMEV insurance holding. It helps protect the rail-, road- and waterways in and around Amsterdam as well as the densely built city areas.
AIRPORT FIRE PROTECTION

Since February 2000, the airport administration of the oil metropolis Baku on the Caspian Sea counts on the IFEX FireHunter as universal extinguishing equipment for all operations on the airport.
IFEX
ON TOP OF THE WORLD
IFEX on the most Northern point of Europe: The Nordkapp community at Norway's northern peak relies on their new IFEX FireHunter, the highly mobile all purpose Impulse Fire Extinguishing vehicle.
IFEX SCOOTERS IN ITALY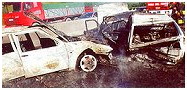 June 6, 2000: Accident on the A1 motorway direction south. Five cars involved, 3 of them burning. Leaking fuel sets the motorway on fire. Two IFEX scooters extinguish the fire with 75 liters of plain water with no additives. When the fire brigade arrives, cooling is all that remains to do.
According to statistics of the motorway administration, roads have to be blocked for 6.5 hours on the average after accidents of this dimension. Not with IFEX: The lane leading north is rs-opened after 6 minutes, direction south after 1 hour and a half.